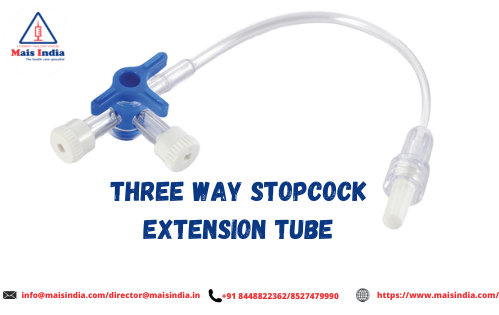 What is 3 Way-Stopcock With Extension Tube?
3 Way Stopcock Extension tube is utilised with all of the many transfusion and infusion devices which allow the connecting directly to medical devices to enhance the experience of the user. It also acts as an alternative mode to administering medicines in patients.
How 3-way stopcock Extension help?
Three-way stopcock with extension tube that is integrated to minimise manipulations during intravenous administration drugs and fluids via an i.V. Catheter.
Reduces the risk of irritation to the skin and infections by taking.
The administration site is separate from the website for insertion.
The integrated stopcock with three ways offers several infusion lines.
Smooth inner surface to limit the chance of turbulence.
Disposable, sterile and non-pyrogenic.
Specification of Three Way-Stopcock With Extension Tube.
It is made up of non-toxic and clear PVC/ DEHP Free PVC
Latex-Free, non-pyrogenic
Diameter OD 4.1 millimetres; ID 3.0 mm
A Universal Luer lock connector lets you connect to a range of medical devices that are standard.
A completely transparent body made of medical-grade biocompatible polycarbonate that allows visualisation of flowing fluids.
Tube Lengths: 10, 25 50, 100, 150 200 cm
Use only once, EO Sterilised & Individually packaged
FEATURES
3-Way Stop Cock that is integrated with Kink resistance PVC tubing
Quality kink-resistant tubing made of high-end materials featuring smooth surfaces on the inner side that allow for smooth, non-turbulent laminar flow.
The perfect module to facilitate the administration of medications or adds lines
Smooth tap rotation
A uniform bore throughout the bore ensures the greatest flow of infusion, and also minimal turbulence.
Leak proof body can withstand tension up to ten bar when used in normal conditions.
Screw Luer Lock ensures an unsecure and secure connection to luer locks of other common systems.
6% luer-taper can be used with all standard products