ASSEMBLY AREA/ MANUFACTURING AREA – CLEAN ROOM CLASS 10,000 OR ISO CLASS 7
Mais India clean room facility is one, which has clear ecological control of particulate and bacterial infectivity and is built, sustained and used in such a way as to diminish the insertion, generation, and retention of contaminants.
At Mais, we are assembling our medical devices in accordance with ISO 13485 regulation. We fabricate such a culture through our operational excellence programs. These include:
Continual flow manufacturing
Visual process controls
Provide training for our highly skilled operators and technicians
Traveler and line history report generated for each construction
Dedication to the principles of lean manufacturing and 5S
Sign-board for fast response and lower inventories
Incremental for cost reduction and performance requirements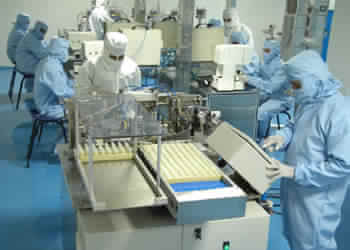 MOULDING AREA – CLEAN ROOM CLASS 100,000 OR ISO CLASS 7
Fabrication of medical components and devices using by biocompatible resins that are durable, reliable and meet FDA regulations is the compendium of medical injection molding.
The entire moulding area is planned to meet Class 100,000 purity standard of US FED 209E (i.e. not more than 100,000 particles of size 0.5 microns per cubic feet of air) equivalent to ISO Class 7 at dynamic state using HEPA filters.
We have ISO 13485:2016, ISO 9001, and FDA registered facilities for Medical Plastic Injection Moulding.
Our competency of designing the catheter in our custom designed machinery in conjunction with special biocompatible resins. Production of catheter tips, luer fittings, joints, markers, manifolds, and additional through Automatic Online Catheter Pull Testing, Automatic Online Leakage Testing & Silicon Tube Testing via using pressure sensors and Automatic Online Vision Inspection System by using high resolution cameras.
Mais utilizes a variety of distinctive materials for medical plastic injection molding, to provide the ideal medical plastics for your medical needs. For medical injection molding, we tend to conjunctly utilizes a wide variety of engineering resins which provide magnificent mechanical properties including, high tensile strength to resist breakage, and high heat load ratings to avoid distortion due to heat exposure during disinfection.
LAB (CLASS 10,000 AND CLASS 1,000) ISO CLASS 6 AND ISO CLASS 7
In the healthcare sector, testing of Medical Devices is very important for the well-being of the patients. Keeping this thing in mind, we provide authentic quality testing services to confirm the safe use of medical devices.
Our lab is equipped with machines using state-of-the-art technology in order to manufacture products conforming to international standards.
Our Laboratories are specializes in biological, in-vitro, chemical, microbiological, stability and physical testing of clinical devices.