ISO 13485 specifies necessity for a Quality Management System (QMS) where a firm have to display its ability to supply medical devices and respective services that consistently meet customer and applicable regulatory requirements. It also involved in the design, production, storage, distribution, installation and servicing of medical devices and related services.
ISO 13485:2016 is intended to respond to the latest quality management system practices as well as changes in technology and regulatory needs and expectations.
The new version has a greater emphasis on risk management and risk-based decision making, as well as changes associated with the enhanced regulatory needs for organizations in the supply chain.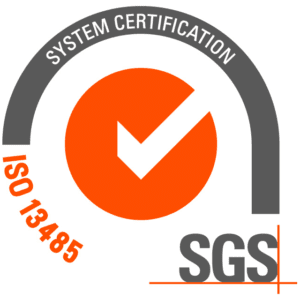 The Europëenne Conformitè (CE) Mark is mandatory for regulating the products marketed within the European Economic Area (EEA) since 1985. The CE marking depicts the manufacturer's declaration that products comply with the EU's New Approach Directives. These directives are applicable to the products within the EU and also for those products which are manufactured in or designed to be marketed in the EEA.
Our product is certified by SGS Belgium which is world's leading auditing firm. It is renowned world-wide for the quality and integrity.