MANUFACTURING FACILITY- ETO STERLIZER
Mais India eto sterilizer performs an important role in the process of manufacturing medical devices.
Sterilization is a term referring to any process that eliminates or kills all forms of microbes, including transmissible agents (such as fungi, bacteria, viruses, spore forms, etc.) have shown their presence on a surface, contained in a fluid, in pharmaceutical preparation, or in a compound such as biological culture media.
Mais India has installed totally Automatic Vertical Double Door Sliding ETO Sterilizer. Here also we have maintained Cleanroom Class 10,000 or ISO Class7.
It has automatic cycle progression through vacuum, exposure, sterilizing, and aerating phases.
Various phases of the sterilization process are shown on the control panel screen.
Low pressure of chamber prevents the gas from entering into the operational area.
Complete control over the vacuum, chamber's temperature, exposure (aeration time) etc. for effective performance.
It safeguards the operator from exposure to EO gas due to its superior aeration system.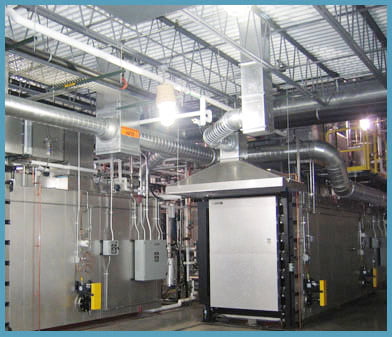 ESSENTIAL STERILIZATION INFORMATION
Products (Medical Devices) are manufactured by Mais India have been sterilized in our own premises with "Ethylene Oxide" and found to conform to the sterility requirement of ISO 11135:2014 (E).
The Details and process of Sterilization
Type of sterilization cycle: Overkill cycle.
Gas mixture : (EO:CO2-20:80)
Sterilization Process
Blister packed material is transferred in sterilization section duly packed in cartons.
All the cartons are loaded in SS perforated trolleys. One chemical sticker is pasted on each master carton for differentiation between sterilized/Unsterilized products. The box containing 16 biological indicators are kept at specified location as per loading pattern.
Wait till temperature has reached 45°C and then started sterilization cycle.
Preconditioning at 47 ± 5° C temperature and 35 -65% Humidity for 10 hours.
Initial vacuum: -0.8±-0.08kg/cm 2 .
Inject the ETO (20:80%) into the sterilization chamber and operate sterilization cycle at temperature 47 ± 5° C and 35 -65% humidity with exposure pressure 1.45±0.14kg/cm 2 5 hours.
Evacuate the gas to -0.5kg/cm 2 .
Inject fresh air into the sterilization chamber.
Repeat the procedure of g and h for 3 times.
The level of sterility assurance (SAL) is 10 -6 and the sterilizer is complies with ISO 11135:2014 (E) requirements.
ADVANTAGES OF ETHYLENE OXIDE GAS STERILIZATION
High bactericide, viricidal and fungicide effectiveness.
It destroys bacteria in their vegetative and sporulative form, fungi, rickettists and viruses
Outstanding spread over all types of materials. That's why; it penetrates into and spreads throughout all areas of the elements to be sterilized.
It does not deteriorate metallic instruments.
It does not alter the chemical composition of sterilized elements.
It allows sterilizing at low temperature conditions. Specially indicated for thermal sensitive.